ReadyWrap medical binders are the perfect alternative to elastic compression hosiery. And with standard size foot, calf, knee, and thigh units, you can get an off-the-shelf full-leg solution that offers a "custom" fit.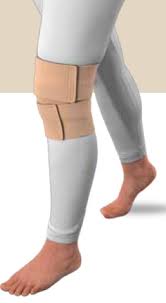 Thanks to your feedback, every ReadyWrap now features a tri-color strapping system that makes application even easier. Simply match the colored straps together and you're done!
We looked at every angle and detail when we were designing ReadyWrap. That's how we know the design and low-stretch materials enhance contouring and provide a superior fit.
The ReadyWrap foot unit is simpler than ever! The left and right foot specific design improves contouring, eases application, and fits into most shoes.
Now you can have full foot coverage with ReadyWrap Foot and Toe units. The Toe unit also features digit spacers and individual straps so you can adjust compression over your toes.