The ThermoActive™ Ankle Support is specifically created to fit the unique shapes, curves, and angles that occur around your ankle and foot. Special anatomical design allows for complete coverage of your upper foot and ankle that cannot be achieved with a traditional ankle wrap. In addition to applying pressure for the gel pack, the circumferential compression also provides ankle support to the delicate region.
Indications: Ankle and foot sprains, plantar fasciitis, Achilles tendonitis, bursitis, arch and heel pain
The ThermoActive™ Back Support utilizes a strap that conveniently adjusts in the front, allowing you to easily customize the fit. The compression pump helps to secure the gel pack to your lower back, providing a deep, high quality cold or hot treatment. The compression also provides anatomical support to your lower back, which increases comfort and provides additional lower back pain relief.
Additional Use: The Back Support can be used without the Gel Pack as a traditional anatomical lumbar support. This can be used during regular activities, like walking, to provide support and targeted relief.
Indications: Lumbar injuries and strains, Thoracic injuries and strains, Post-Surgical recovery, back muscle soreness and spasms, Sciatica, SI Joint pain, arthritis
The ThermoActive™ Shoulder Support is individually designed for left or right shoulder to maximize fit and effectiveness of shoulder therapy. The easy-to-apply body strap allows you to easily move and walk while wearing the support during treatment. The circumferential compression secures the gel pack to your entire shoulder area, which typically is very difficult to fit with just a wrap.
Additional Uses: Prior to exercising do a 5-10 minute heat therapy treatment to help loosen up stiff shoulder areas.
Indications: Rotator cuff injury, bursitis, tendonitis, Post-surgery shoulder strains and swelling, post-exercise recovery, before and after throwing routines.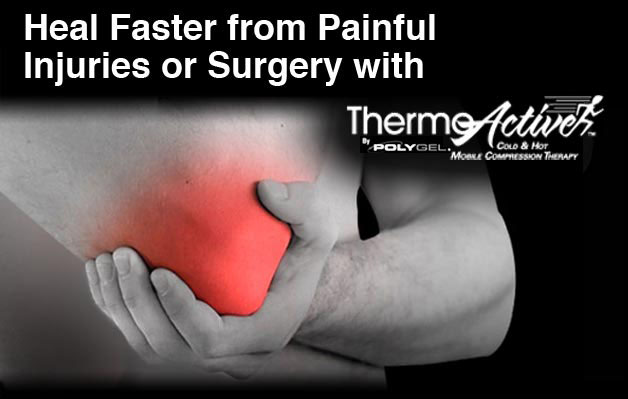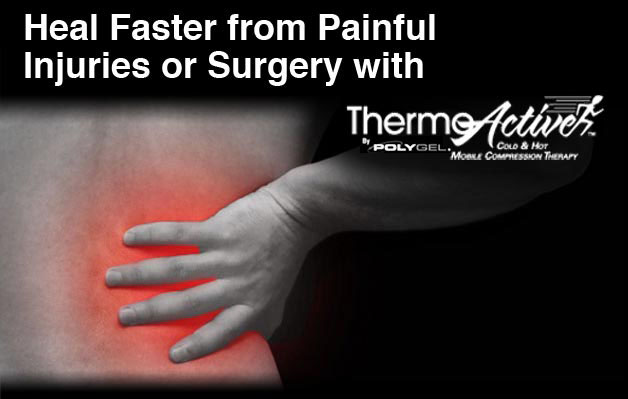 Knee Support
The ThermoActive™ Knee Support is uniquely designed to provide knee pain relief to all 4 areas of your knee simultaneously: above the patella, below the patella, left of the patella, and right of the patella. Utilizing adjustable straps combined with the compression pump allows you to apply specific pressure to each of these areas. Precise anatomical fitting allows you to walk with the support during treatment.
Indications: Ligament injuries and strains (ACL, PCL, MCL), meniscus strain or injury, patella tendonitis, chondromalacia, bursitis, arthritis, Post-Surgery Treatment.
The ThermoActive™ Wrist Support is designed to easily adjust the fit to your hand and wrist. The unique compression pump allows you to securely fit the support and apply pressure to the area where conventional wraps cannot. Convenient thumb loop enhances the ease of fitting the wrist support keeping it in place. Support can be used for either your left or right hand.
Indications: Wrist strains and sprains, carpal tunnel syndrome, arthritis, tendonitis, hand injuries.